13 Essentials for a Functional Entryway
source:http://t.cn/AiRBzs3T
The entryway is not just a transitional zone between the main hall and the gate, it serves so many purposes. Not only to make a great first impression, but also a multi-layered displayed space.
"Just like we like to be greeted with eye contact, a warm smile, and a firm handshake, an entryway should greet someone and make them feel welcome," says Larina Kase, an interior designer and home stager in the Philadelphia area.
Regardless of the layout of your home, there are 13 entryway essentials that included storage, lighting, and decor, which will surely help you to create your entryway more inviting.
Storage
The entryway is usually quite small, so keep your coats, shoes, keys or umbrellas on their own space without putting them on the floor.
1. Hooks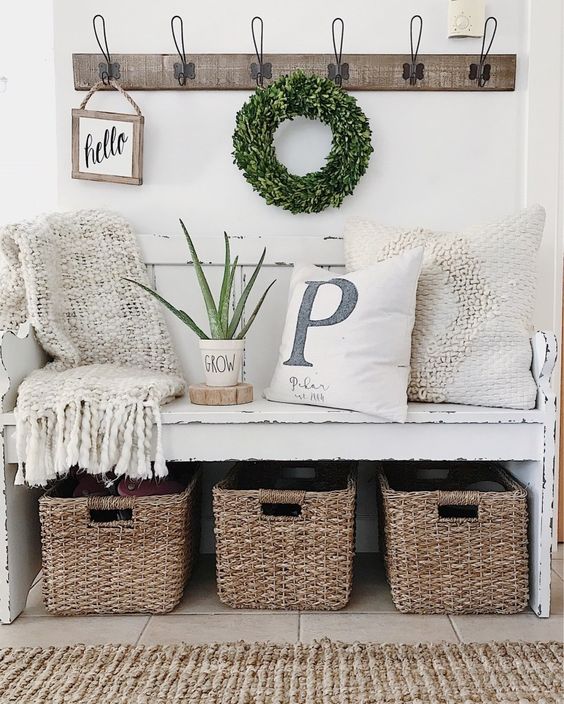 Source:http://t.cn/AiRBZlnV
Hooks are a lifesaver for a quick place to hang up jackets, coats, scarves, bags at the end of a long day and you can also easily grab on your way out. Make sure to have plenty, low and high, plastic or metal, which can easily transform a few feet of space into the most efficient area.
2. A Stool, Bench or Seat
Source: http://t.cn/AiRBwnA2
Seating is a key elements of your entryway, where gives you a place to sit down and take off your shoes. Keep seating casual so when guests visited will feel welcome and comfortable while putting on & off shoes. A bench that has storage underneath the seat can do double duty, not only a place to sit but also a place to store your shoes. If you have a tiny space for an entry, just use a stump stool.
3. A Console Table, Cabinet or Chest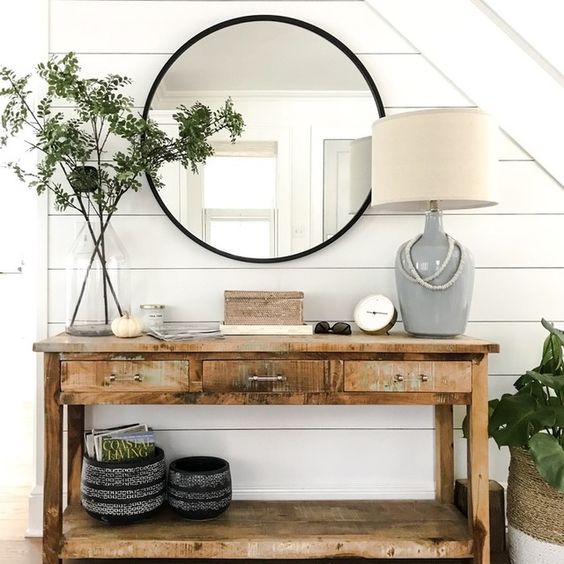 Source: http://t.cn/AiRBAo1j
Putting a console table to make a big statement out of a small area by using every inch of a vertical wall to draw the eye up. If you only have a little budget, you can hang up an inexpensive cabinet, find a petite desk and paint it, and display a collection of little items.
4. A Bowl for Keys, Change, and Sunglasses
"No entryway is complete without a pretty bowl for keys and change," says Meridith Baer, owner of Meridith Baer Home in Los Angeles.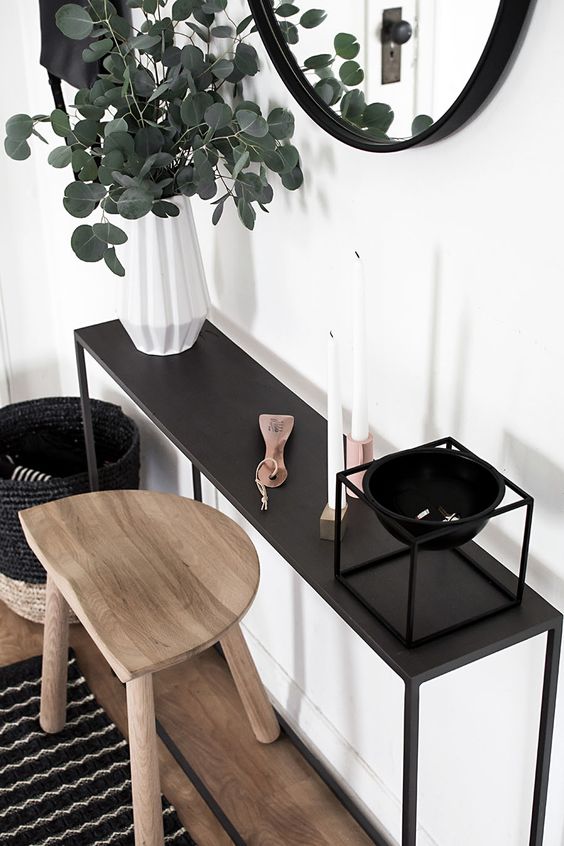 Source: http://t.cn/AiRB2iJO
Having a dedicated place for all of these things like keys, phone, change, and sunglasses instead of having them fall onto the floor, will keep you from losing them and can quickly find on your way out. You can put it on a console table or chest and whoever walks in will see there, hopefully putting their own keys and glasses in the bowl.
5. Large Baskets, Bins or Crates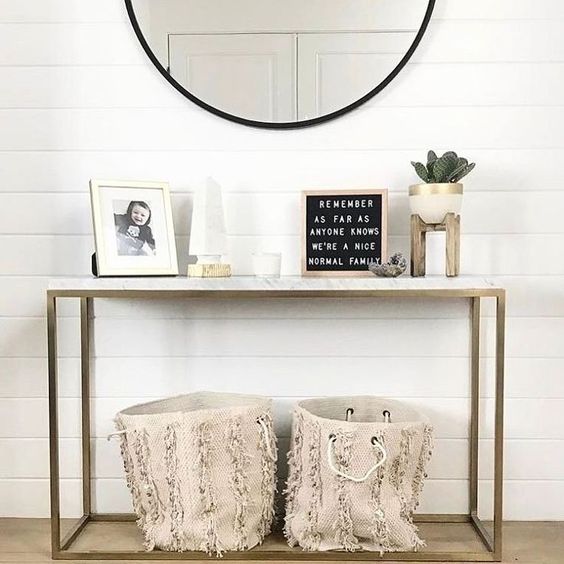 Source: http://t.cn/AiRBLFqC
Baskets and bins are a must, where you can store scarves, mittens, flip flops, you can easily find them without see them out and messy the area. A basket can also serve as a place to organize mail or function as the all-important trash bin to help you immediately recycle junk mail before it gets too far past the door. A set of matching fabric baskets to help keep everything neat and tidy.
Lighting
The first thing you do when you came home is to turn on a light, these small lights will offer a welcoming glow.
6. Table Lamp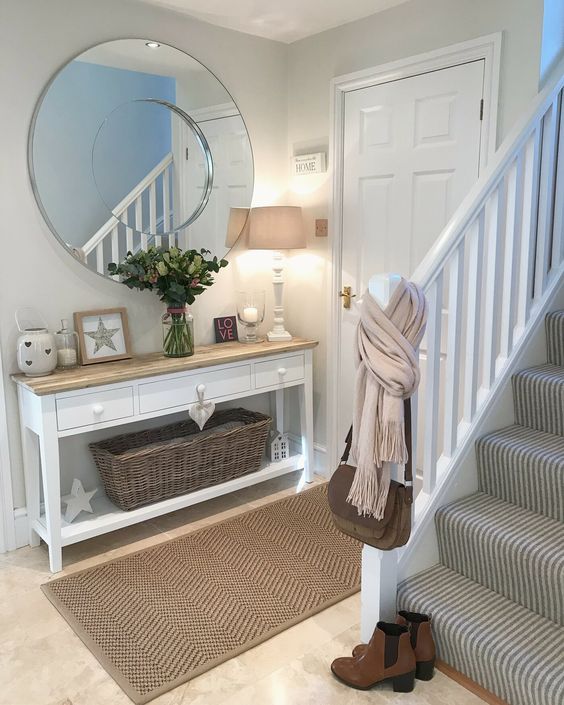 Source: http://t.cn/AiRBynjl
Table lamps are ideal for a furnished entryway which can work as accent lighting and also tend to add a sense of coziness. A pair of lamp decor accents along a console table will look chic and elegance.
7. Chandelier or Pendant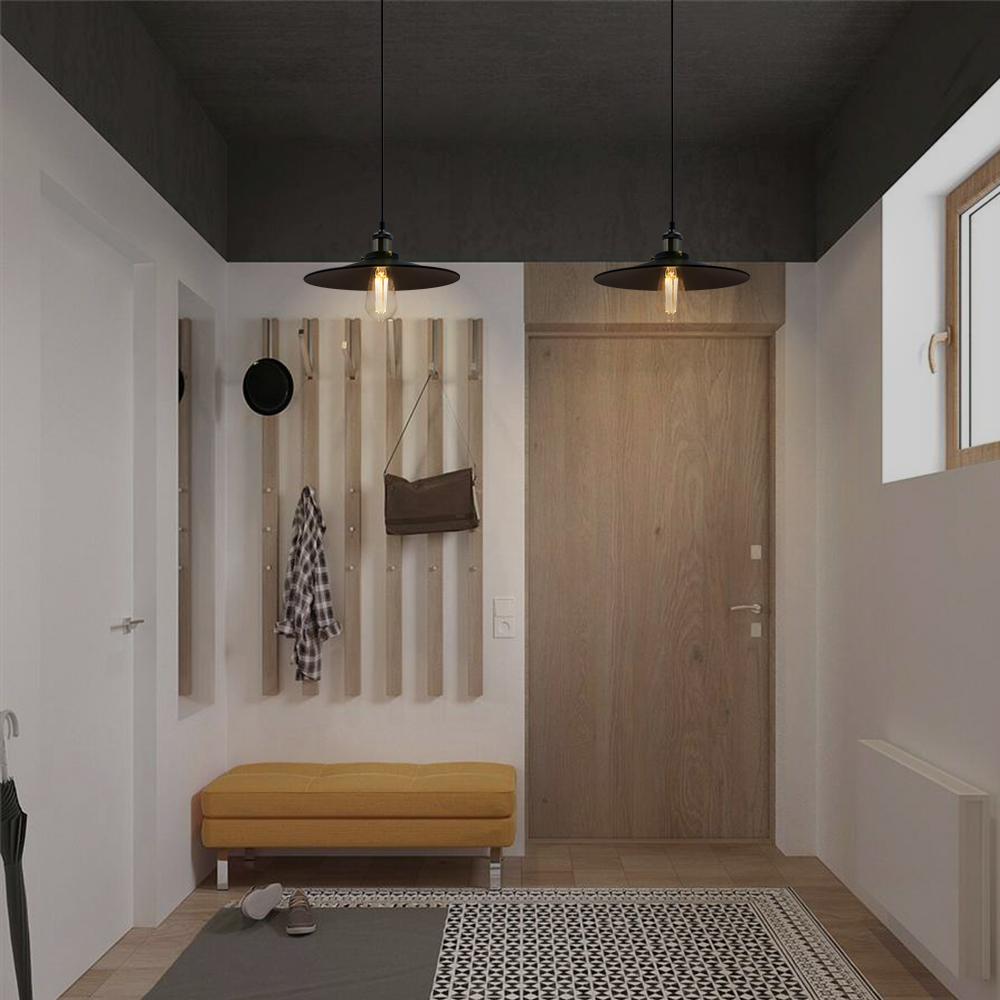 Hanging chandeliers or pendants can help you set your home style and act as the focal point of the entryway. A chandelier can cast more diffuse light throughout the entryway, a pendant can shine more spotlight on a console table. A modern chandelier or bold pendant also makes a memorable and bright first impression. As seen in this entryway, a pair of modern industrial LED pendants from Enuotek that conbined with retro LED bulb and metal round shape lamp. More details click here.
8. Sconces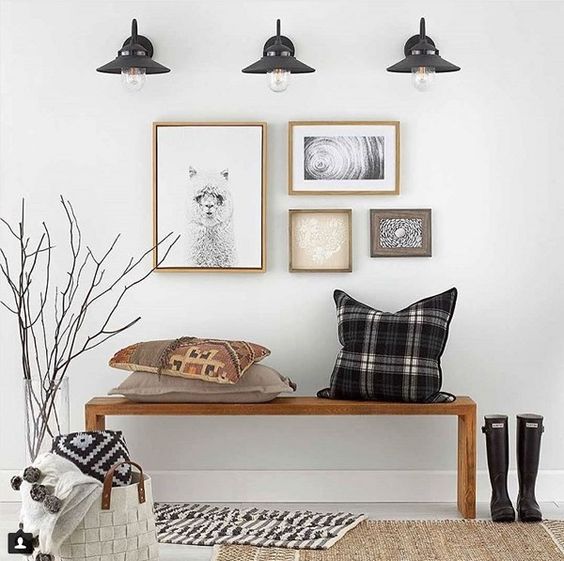 Source: http://t.cn/AiRBUlrX
A pair of scones will not only illuminate a long hallway but also can be a real space saver. Hanging your sconces at a height of 66-72" should do the trick. From wall lamps with a sleek, modern design to romantic numbers dripping in crystal tear drops, there are several styles available to light up your entryway.
Decor
9. A Mirror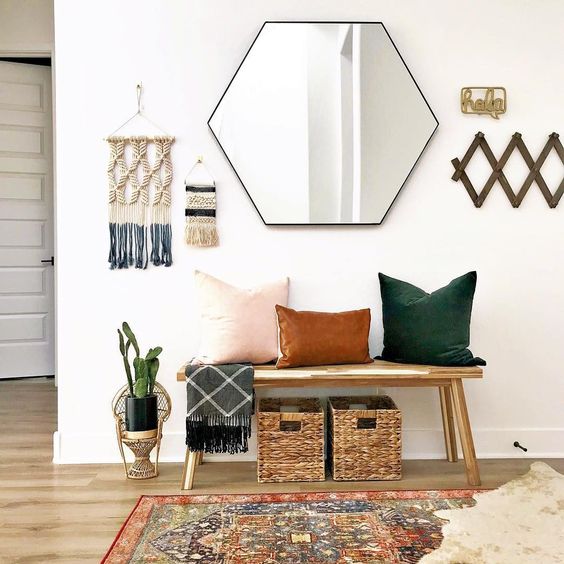 Source: http://t.cn/AiRB4LPw
No entryway is complete without a mirror, says Jack Menashe of New York-based Menashe Design. A mirror not only make the small space optically larger but also save time by being able to do the once-over when you're heading out of the door. It adds depth and bounce light around.
10. Flowers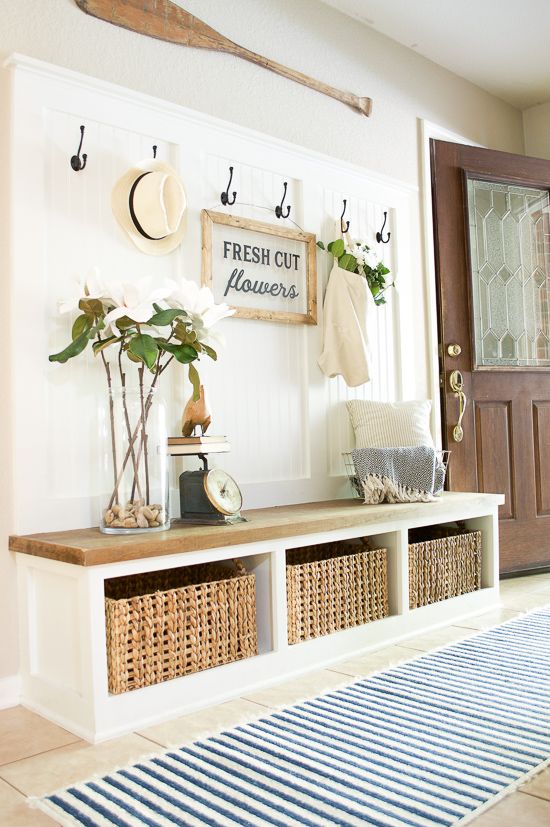 Source: http://t.cn/AiRBb43I
Fresh flowers add that extra touch of natural beauty that can turn an otherwise humdrum entrance into a tiny oasis.
11. Plants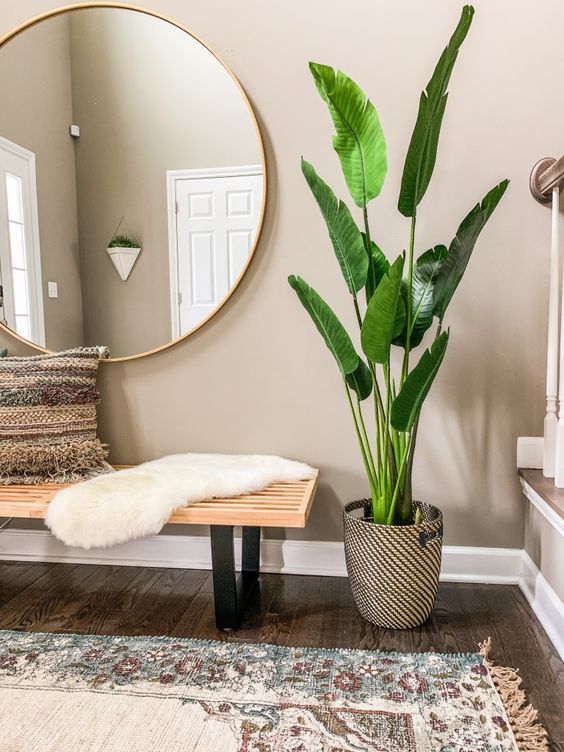 Source: http://t.cn/AiRBbn0O
If you have a large blank wall near your front door, use a portion of it to create a small entryway complete with a console table, mirror, small bench and a large potted plant on either side of the table to make the space feel purposeful and complete.
You don't have a ton of space to work with doesn't mean you should revert to small accessories. Use bulkier pieces like the group of cacti and woven chair to keep things from feeling too flat and subtle.
12. Pieces Wall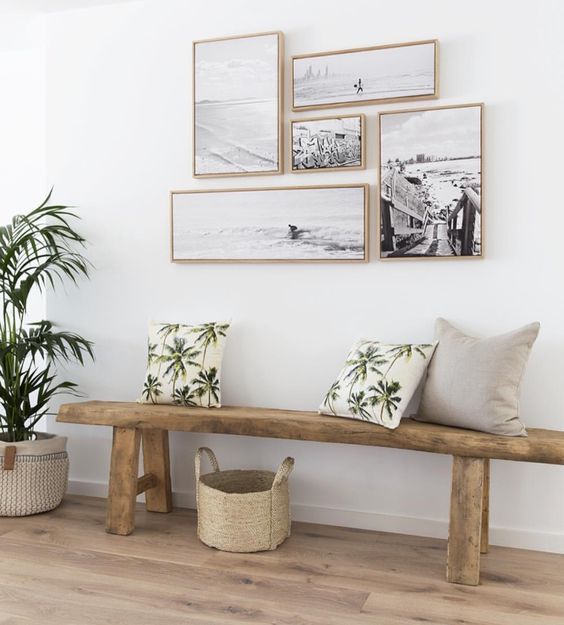 Source: http://t.cn/AiRBG01h
Choose some pieces that are similar to your wall color. The white hook plaque and light tones in the framed photograph help the useful area blend in effortlessly with the rest of the room.
13. Use a Bookcase as a Partition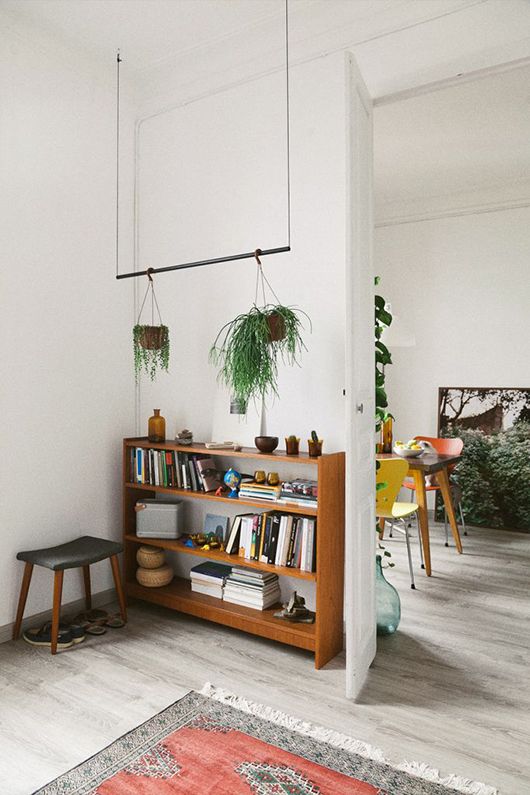 Source: http://t.cn/AiRBqwLQ
Section off an area for your entryway directly in front of the door by using a simple bookcase. Add decorative open shelving to the top, and to create a natural transition between the new foyer and the existing living room.
There you have it: my 13 favorite entryway examples! Which one of these front hall decorating ideas inspire you to recreate then in your home?